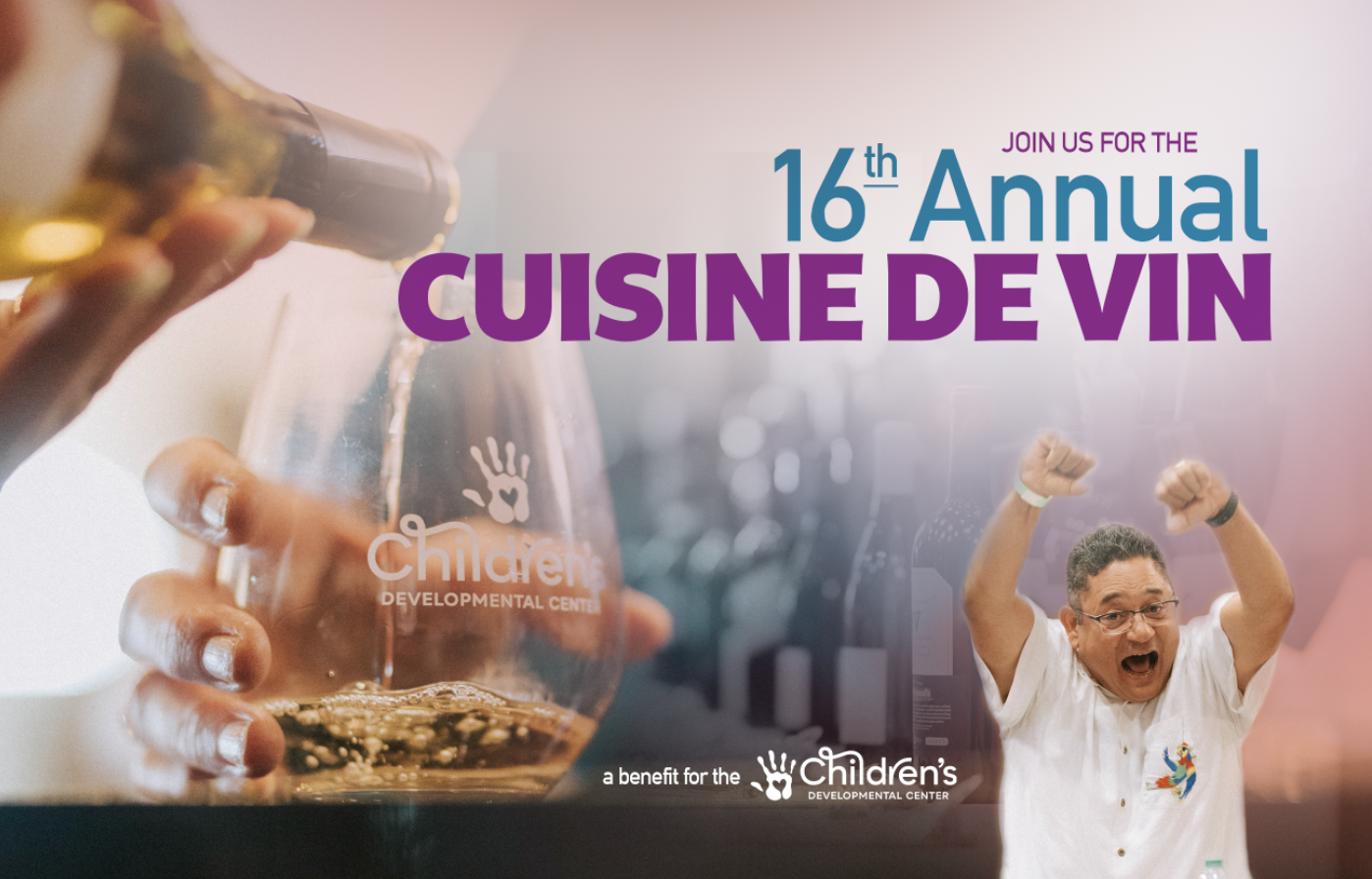 August 11th, 2023
7 – 10PM
VIP Reception
5:30-6:45PM 
Main Event 
7-10PM 
Terra Blanca Winery 
Our 16th Annual Cuisine de Vin is back! Cuisine De Vin offers a fun opportunity to meet fellow food and wine enthusiasts, explore the best of what our region has to offer, and support the Children's Developmental Center.
Join us on Red Mountain for a casual evening of food and wine pairing. Our regional chefs will showcase their culinary mastery, paired with local wines and crafted beers.
This year, we are bringing back our VIP reception! From 5:45-6:30PM, you will gather in Terra Blanca's beautiful courtyard (weather permitting) with owners Keith & ReNae Pilgrim, to enjoy appetizers created by head chef, Chef Jim. You will also enjoy two special Terra Blanca wines and have the option of bidding early on our silent auction items.
During the main event, from 7-10PM, you will sample a variety of regional foods paired with the finest selection of wines and beers. There will be 24 silent auction items to bid on, and two raffle items. Music will be provided by Platinum entertainment.
Here is a preview of the silent auction items available for bidding:
1. Coca-Cola Vintage
4-legged Cooler
VALUE: $435
2. "Year Long Fun" By Joan Curtis
VALUE: $250
3. The Terra Blanca Wooden Box ONYX Package
VALUE: $480
4. "Wine is Bottled Poetry" 24x27in Art Piece + Terra Blanca Wines
VALUE: $450
5. A Weekend in Seattle
VALUE: $1,130
6. Autographed Chris Carson (Seahawks) Poster
VALUE: $305
7. (3) Bottles of High-End White Wines
VALUE: $395
8. The Pendleton Package
VALUE: $462
9. The Kronvall + Anthonys Package
VALUE: $317
10. The Date Night(s) Package
VALUE: $1,266
11. Terra Blanca Date Night
VALUE: $700
12. Scotch in Five
VALUE: $636
13. Baum's Chocolate Goodies
VALUE: $300
14. Princess Tea Party
VALUE: $175
15. Buffalo Wild Wings Package
VALUE: $246
16. (3) Bottles of High-End Red Wines
VALUE: $310
17. Corona Beer Package
VALUE: $138
18. Ultimate Baseball & BBQ Package
VALUE: $760